LABEL 5 NEW GRAFFITI LIMITED EDITION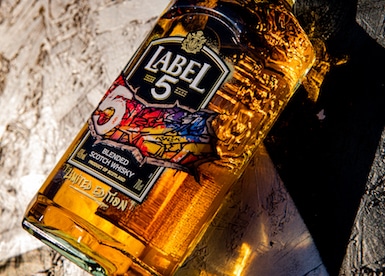 Top 10 Scotch Whisky LABEL 5 reveals its new breakthrough limited edition inspired by urban street art at Prowein trade fair
LABEL 5 continues its « The Power of 5 World Tour ». Last year five renowned street artists created five graffiti artworks related to the number 5, in key cities around the world -London, Beirut, Brussels, Hong Kong and Mexico.
This year the Scotch Whisky brand is going further by engaging its fans: LABEL 5 followers chose the next limited edition amongst the five designs. With over 2/3 of the votes, it's Rami Mouallem's graffiti from Lebanon which is displayed on the new limited edition.
This launch comes along a dedicated street art plan which will be released worldwide, including digital media, social networks, in-store visibility, events and PR activations, with the creation of a unique street art shaker in the shape of a spray paint can.
LABEL 5 Classic Black limited edition 70cl 40% – Available worldwide