Our commitments
An engaged stakeholder, helping develop cultural heritage, and wine and spirits tourism.
Espaço Porto Cruz
A sumptuous marriage of Port and art.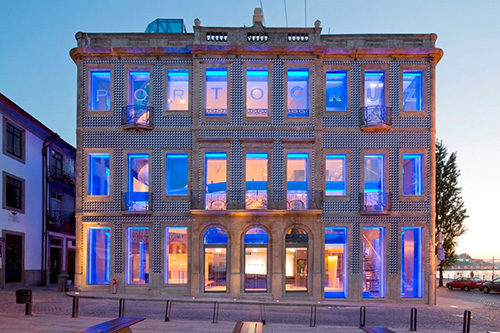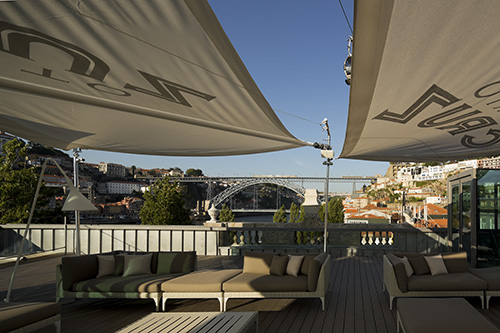 The PORTO CRUZ website: www.porto-cruz.com/en/espaco-porto-cruz
Located in Vila Nova de Gaia, this centre offers an opportunity to discover Porto's Wines via original interactive, sensory experiences. It also exhibits the work of contemporary Portuguese artists inspired by the brand's iconic woman in black. Espaço Cruz is a project celebrating Porto's culture, combining tradition and modernity in its multimedia centre. It is an information, exhibition and entertainment centre, offering new experiences in Port brought to life by creations from the worlds of fashion, art and gastronomy. The permanent collection is further bolstered by a seasonal programme of cultural and artistic events and exhibitions. The centre's architecture was designed by Luc Arsène Henry, Alain Triaud, Juliette Faugere – Architectes Associes (France) and ARQ 2525 – Arquitetos (Portugal), and receives 150,000 visitors a year.
Gran Cruz House
An elegant and welcoming CRUZ-coloured hotel in the historic centre of Porto.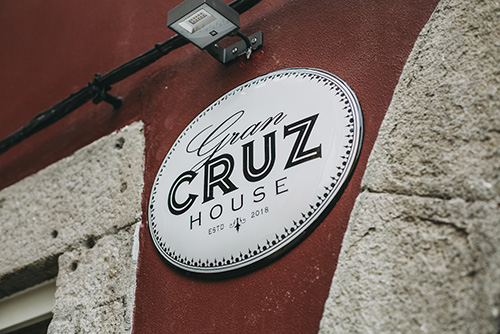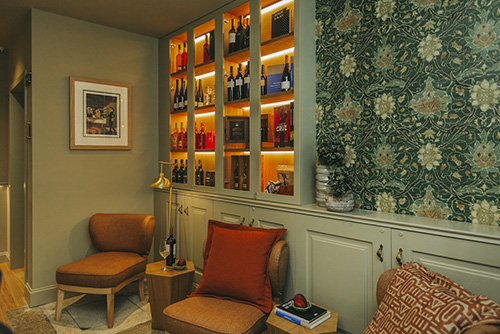 The Gran Cruz House website: www.grancruzhouse.pt/website-official
Overlooking the Douro River, the Gran Cruz House hotel is ideally located on Praça da Ribeira, the historic and medieval town centre. The building, which dates back to the late 16th century, has been completed renovated. It once served as a warehouse for Porto's commercial activities importing coffee and chocolate from the former colonies. The Gran Cruz House hotel welcomed its first guests in September 2018, introducing them to Portuguese hospitality with bespoke service and incredible attention to detail. The hotel embraces everything PORTO CRUZ cherishes: authenticity, elegance and generosity. The woman in black, the icon of the CRUZ brand, is found in different depictions in every room. The hotel has seven rooms and hosts a cosy and inviting gourmet restaurant called the Casario. Here, renowned chefs Miguel Castro Silva and José Guedes introduce guests to the best of Portuguese cuisine, serving seasonal dishes accompanied by Wines and Ports from the Douro Valley.
GRAN CRUZ HOUSE – Viela do Buraco – Praça da Ribeira 4050-132 Porto – Portugal.
Quinta de Ventozelo
Breathing new life into a charming vineyard in the heart of the protected Douro Valley.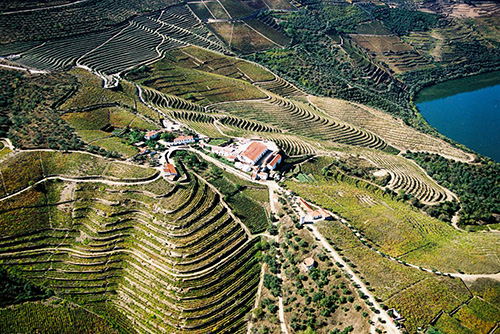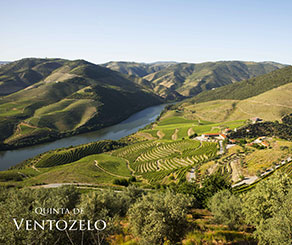 The Quinta de Ventozelo website: www.quintadeventozelo.pt/
Thanks to the restoration of this unique site in the heart of the protected Douro region, Quinta de Ventozelo now offers visitors a breath-taking view overlooking rows of vines that stretch into the distance. The restoration work being carried out on this historic building will soon also offer future visitors the opportunity to discover traditional Portuguese culture. The unique personality of Quinta de Ventozelo's wines reflects the poetry and tranquillity of this unique location, i.e., a place where a commitment to quality meets the warmth of Portuguese culture.
Open to the public in 2019.
The historic La Salle site in the birthplace of SAINT JAMES Agricole Rhum
Experience spirits tourism in the heart of Martinique's largest tourist destination.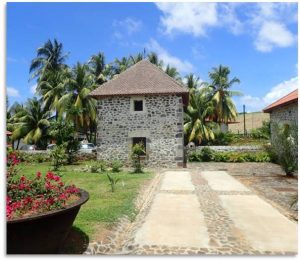 SAINT JAMES Rhum's website: www.saintjames-rum.com
An 18th century sugar house. In 1770, La Salle belonged to a certain Survilliers. Towards the mid-19th century, it was home to a distillery, a purgery, a sugar house and the manor house. In the first half of the 20th century it came into the possession of the Huygues-Despointes family. Now owned by SAINT JAMES, this site is currently undergoing renovation to become an additional and magnificient ageing cellar for our SAINT JAMES rums and will soon be included in the tour of the SAINT JAMES Distillery, the Museum of "Rhum Agricole" of Martinique and the producer's plantations. SAINT JAMES, the island's largest producer, takes the Martinique AOC (protected designation of origin) very seriously and is passionate about promoting Martinique's historic and cultural heritage.
The Museum of Agricole Rhum of Martinique
SAINT JAMES, protecting the historic savoir-faire of Martinique AOC Agricole Rhum.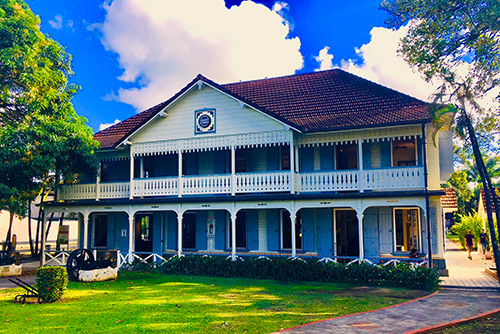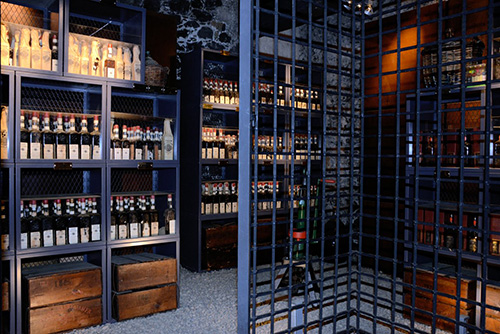 .
SAINT JAMES Rum's website: www.saintjames-rum.com
In this ancient colonial mansion, visitors can discover the entire history of Agricole Rhum from 1765 to the present day. Discover the magic of the island through a photographic exhibition and a unique collection of engravings, labels and old bottles. Find out more about this now legendary Rum, discovering and tasting all of its many guises, from blanc, to paille, ambré, vieux and hors d'âge… Retrace the history of distillation in this enchanting setting through the different equipment used, from Charentais pot stills to column stills. And explore the SAINT JAMES vintage cellar, which is home to an incredible collection of rare vintages dating back as far as 1885.
The GLEN MORAY Distillery
In the heart of the Speyside region.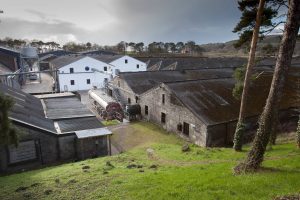 Glen Moray has been distilled in the heart of Elgin, the historic capital of Speyside since 1897 by a small dedicated team of craftsmen. Glen Moray is a partner member of the world famous Malt Whisky Trail and welcomes 23 000 visitors a year. In over a century of distilling at Glen Moray, much has changed. However, the ingredients, processes and the skills of those responsible for producing this finest quality single malt whisky remain constant.
The AVÈZE centre
AVÈZE, a unique Eau-de-Vie and a cornerstone of French heritage.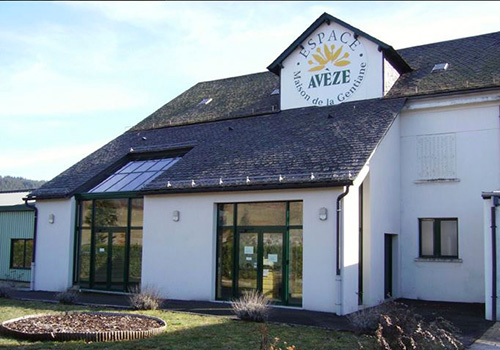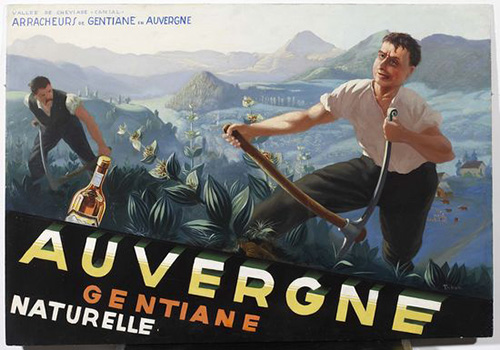 The AVÈZE Gentian website: www.aveze.com
The Maison de la Gentiane, in the heart of the Regional National Park of the Volcanoes of Auvergne, has been awarded the "Maison du Parc" certification and welcomes 30,000 visitors a year, who come to discover gentian's secrets, from its history to its production. A traditional French spirit renowned for its unique and rich aromatic bouquet, AVÈZE gentian has prospered through the ages, today making an important contribution to the success of the LA MARTINIQUAISE Group.
The BUSNEL distillery
BUSNEL, French expertise in the heart of a well-preserved region of Normandy.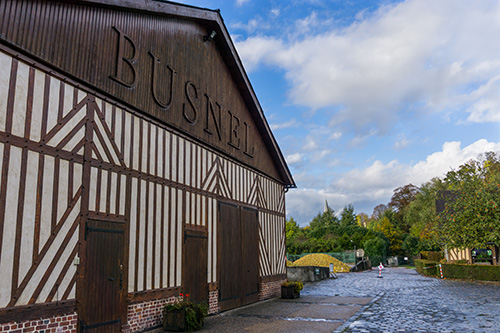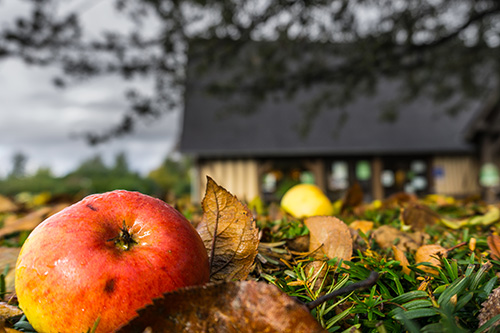 The BUSNEL distillery website: www.distillerie-busnel.fr
The heir to expertise dating back to 1820, the BUSNEL distillery produces and ages exceptional Calvados in the heart of Normandy's most renowned region, the Pays d'Auge. Every year the site receives 30,000 visitors who come to discover Calvados' authentic history and every stage of the slow production process transforming apples into this delicious amber nectar. In 2018 BUSNEL Calvados XO 12 Years was voted the World's Best Calvados at the international World Spirits Awards.
The GRIOTTINES Institute
An ode to French expertise in Fougerolles, France.

The GRIOTTINES Institute website: www.linstitutgriottines.com
The GRIOTTINES Institute is an innovative concept combining a training centre, chocolate, patisserie, cooking labs, and a beautiful shop, with renowned chef François Lachaux, voted Meilleur Ouvrier de France, a prestigious title awarded to France's top artisan craftsmen.
---
A responsible stakeholder with sustainable development at the heart of its identity.
At the heart of our identity and development model, we are producers committed to managing the entire life cycle of our products and to leading policies designed to protect the environment. Our staff are committed to upholding this policy at all of our sites, focusing on three key areas:
1/ Careful selection of raw materials, the first step in our quality guarantee.
At the LA MARTINIQUAISE-BARDINET Group, we have learnt that a key part of producing high-quality wine and spirits is having control over the raw materials used in their production. Selecting raw materials enables us qualitative and financial management of our wine and spirits ranges.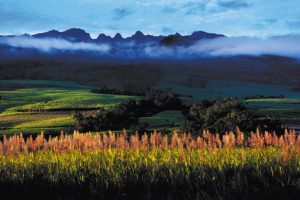 For example:
In Scotland, at the First Blending Company
– Use of non-genetically modified grains.
In Martinique and Guadeloupe
– Control of the entire Rum production process, with our own sugarcane fields (850 ha in Martinique and 950 ha in Guadeloupe).
2/ To save energy, water resources, reduce waste and the transport balance to build over time.
In Scotland, at the First Blending Company
– Installation of Sustainable Urban Drainage Systems to recover rainwater for internal use.
– Valorization of residues from the production process: in compost and irrigation.
In Martinique and Guadeloupe, Marie-Galante and Reunion
– Distillation of our rums in our distilleries near the cane fields in Martinique, Guadeloupe, Marie-Galante and Reunion Island.
– In Martinique
– Treatment of liquid waste and reuse of water for irrigation of cane plantations.
– Vinification, distillation & bottling in the heart of the production regions.
– In 2020, the opening of a second methanisation unit will allow the decontamination of all distillation residues and their valorization into fertilizer sludge for sugar cane fields, replacing imported chemical fertilizers.
– Establishment of our winemaking centre in Alijo, Portugal in the heart of the Douro vineyards.
3/ Producing energy by developing renewable energies.
The LA MARTINIQUAISE-BARDINET Group has invested heavily in structures for the treatment of its waste and in the production of so-called "green" energy on most of its production sites.
– Launch of an investment program to use industrial buildings for photovoltaic electricity production.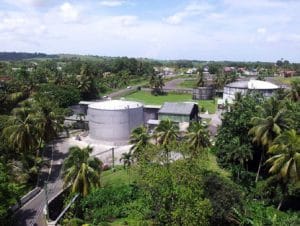 – Equipping commercial buildings in DILLON in 2009 and DEPAZ in 2010 with photovoltaic panels.
– At Rivesaltes, use of thermal solar panels for cleaner energy.
– Electricity generation from methane from liquid residues.
– Valorisation of our effluents (distillation residues) by methanisation, producing a renewable energy called biogas for the operation of the Distillery in total energy autonomy.
In Martinique and Marie-Galante
– Construction of a bagasse/biomass plant in partnership with Albioma.
– The SAINT JAMES Distillery in Sainte-Marie de la Martinique produces more energy than it consumes!
---
People and quality at the heart of the LA MARTINIQUAISE-BARDINET Group's actions.
As a key player in the wine and spirits sector, it is important for us that the LA MARTINIQUAISE-BARDINET Group acts as a role model in the creation of its products and the promotion of responsible drinking.
1/ A deep-rooted desire to constantly improve the quality of our products.
The teams working every day on monitoring our products in the quality and R&D departments of the LA MARTINIQUAISE-BARDINET Group are responsible for monitoring the flow of merchandise at every stage – through systematic sorting at purchase, through compliance checks at reception, and during production through a series of tests to ensure stability, and compliance with our clients' standards and regulatory requirements. Their work is vital for preserving the reputations of our brands and their international development.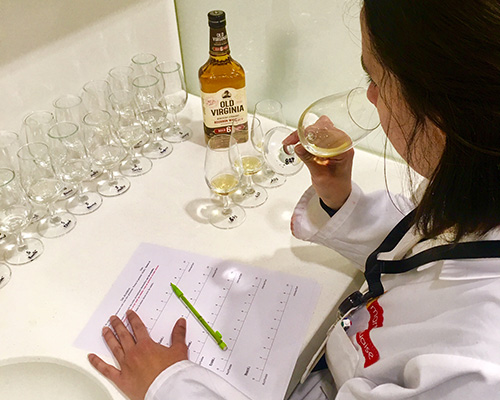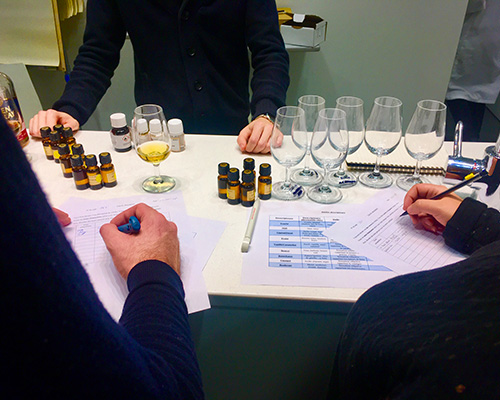 This commitment has enabled our group to obtain certifications for the design, production, packaging and sale of spirits. Additionally, a special HACCP procedure underpins our food safety control system.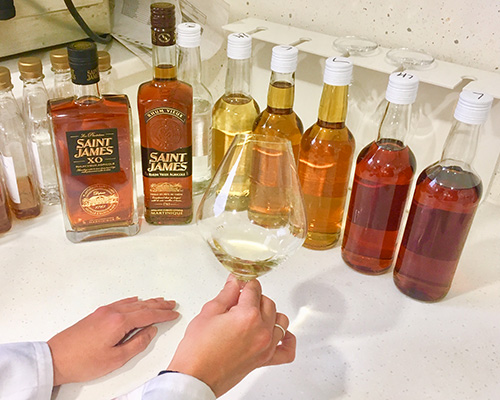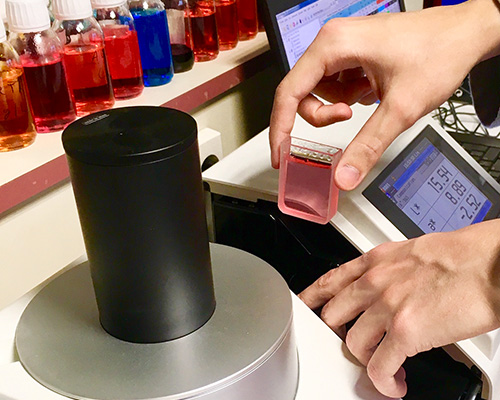 The high quality of our brands is consistently recognized at international competitions. Throughout the year, we enter all of our products into international competitions around the world in order to offer our customers the assurance of quality recognized by major international organizations, such as the Spirits Business Competition, the Chinese Wines and Spirits Awards, and the World Spirits Awards.
2/ Development of a responsible approach, an ethical duty to consumers.
For us it means an approach intrinsically linked to our passion for our wines and spirits. This unique industry needs to be led by players who are fundamentally driven by a desire to share expertise that, for many of our brands, reflects cultural heritage and knowledge that we are now responsible for preserving.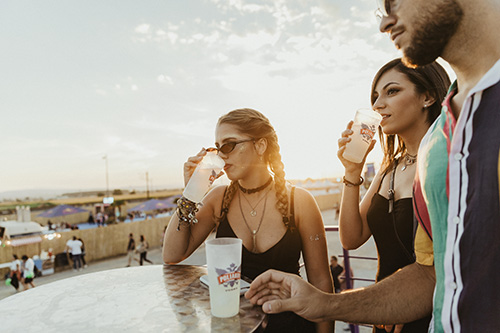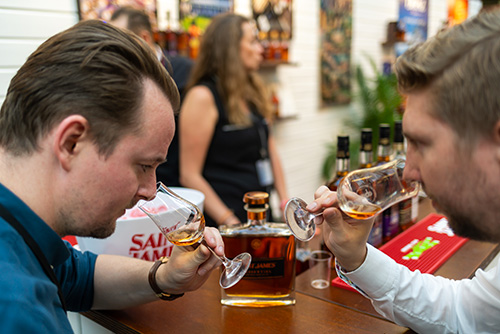 We recommend enjoying our drinks responsibly and in moderation and work every day to develop brand universes that encourage this. We are confident that our products can be enjoyed on their own and in cocktails but always in moderation. Our aim is to accompany our customers in their times of celebration, but always responsibly.