LABEL 5
The Power Of Five campaign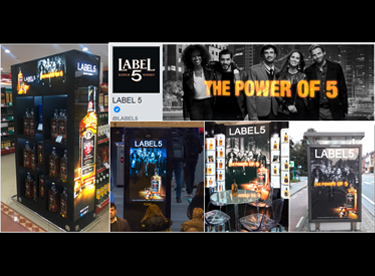 THE POWER OF 5 CAMPAIGN, AN INTERNATIONAL DRIVING FORCE
Launched at the end of last year as a real step up from previous campaigns, the new LABEL 5 communication already proves to be a success.
Focusing on values of Group Power and togetherness in an urban scenery, The Power of 5 expresses in a human and spontaneous way the values of LABEL 5. "This communication glorifies youth, festive and happy moments, energy, but also diversity amongst people." Says Nadège Perrot, international senior brand manager.
The sociability values of the campaign find perfect recognition on social media like Facebook or YouTube where followers' reactions are very positive. The communication is also striking worldwide in store visibility, key brand events and partnerships, or impactful outdoor advertising in top key countries.
ABOUT LABEL 5
Top 10 Scotch Whisky brand, LABEL 5 is carefully distilled, matured and bottled in our distilleries in Scotland. LABEL 5 is enjoyed in more than 100 countries and is renowned for its high quality and appreciated for its smoothness. With 2.6 M 9-L cases sold in 2018, LABEL 5 is a key player in the Scotch Whisky category. (Source: IMPACT).
Visit our website for more information: label-5.com
ABOUT LA MARTINIQUAISE
An independent French group founded in 1934 by Jean Cayard, LA MARTINIQUAISE is a leading spirits group in France and features in the world top 10. The group has a turnover of one billion euros and is proud to own four millionaire brands, LABEL 5 & SIR EDWARD'S Scotch Whiskies, POLIAKOV Vodka and NEGRITA Rum. (Source: IMPACT).
Visit our website for more information: la-martiniquaise.com
LABEL 5 First Blending Company – Starlaw Road, Bathgate, Scotland
Contact: Nadège PERROT – Email: nadege.perrot@la-martiniquaise.fr
Please drink LABEL 5 responsibly
Download the PDF version