NEW CHAPTER FOR LABEL 5 WITH THE LAUNCH OF ITS 'BOURBON BARREL' SINGLE GRAIN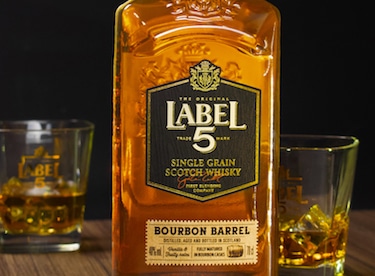 LABEL 5 Scotch Whisky introduces its first Single Grain, distilled in the brand's fully-owned grain distillery and matured in first fill ex-Bourbon casks.
LABEL 5 Bourbon Barrel offers a smooth and qualitative Single Grain. The ageing in first-fill ex-Bourbon casks brings elegant flavours of vanilla and oak with subtle fruity notes. This Scotch Whisky is perfect to enjoy on the rocks or as part of a cocktail, including the iconing Old Fashioned or a simple Whisky and cola.
LABEL 5 Bourbon Barrel is elaborated near Edinburgh, at the LABEL 5 First Blending Company, the only fully integrated site in Scotland, which features a grain distillery, maturation warehouses and bottling facilities, with a state-of-the-art approach to sustainable development. The brand has full control over the elaboration to ensure the highest standard of quality.
Julia Pinoncély, International Brand Manager from LABEL 5, says: "The launch of LABEL 5 Bourbon Barrel marks a very exciting time for the brand. Unveiling a Single Grain Scotch Whisky as part of the LABEL 5 collection further cements our expertise in the market and will be of great appeal to our consumers and partners across the world."
LABEL 5 Single Grain Bourbon Barrel Scotch Whisky will be available worldwide.