LABEL 5 celebrates creative energy with 5 rising street artists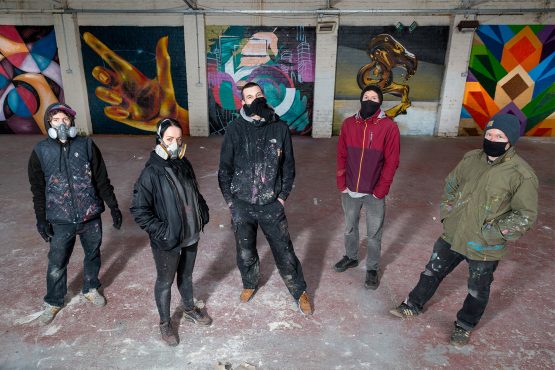 LABEL 5 Scotch Whisky has partnered with urban art collective Upfest – organisers of Europe's biggest street art festival – to create five unique pieces of temporary art as part of its latest brand campaign.
Our Scotch Whisky brought together a collective of five street artists from the UK, who were asked to create a contemporary artwork, in their own unique style, on their vision of the brand LABEL 5.
Three of the artists were inspired by its famous number '5' but their artworks depict different aspects of the brand universe. The Hass chose a post-modernism style to match the modernity of the brand. For its part, Ments' fluid style was a perfect representation of the Scotch Whisky itself. Finally, SledOne wanted to combine two important facets of LABEL 5: a nod to Scotland with the leaves and to the urban positioning of the brand with the skyline. Indeed, the great care and tradition put into the LABEL 5 Scotch Whiskies, is combined with a modern and open to the world communication focusing on urban life and group power.
The other two artists chose to paint other important symbols of LABEL 5. HazardOne, noted as one of the Top 25 female street artists in the world by the Huffington Post, themed her graffiti around the moment you raise a glass to cheers and savour with your friends. Last artist, Paul Monsters, chose five colours to form an ear of barley and thus remind the ingredients of LABEL 5 Scotch Whisky.
Julia Pinoncély, International Brand Manager from LABEL 5, said: "Our Scotch Whisky has a lot in common with Street Art. This expression is very cosmopolitan, modern and urban. That's why this collaboration with a collective of Street Artists means so much to us, especially this year. Indeed, more than ever, we wanted this activation to be around our positive values such as sociability and group power. Each artist has their own style but as a group they inspire and help each other, at a safe distance. We intentionally left the brief open to generate creative energy and have diversity among the different artworks."
All five artworks will be unveiled this summer across LABEL 5 digital platforms including a video showcasing the creation of each piece.