CUTTY SARK WHISKY RE-ANCHORS ITS MARITIME HERITAGE WITH "THE SPIRIT OF ADVENTURE" CAMPAIGN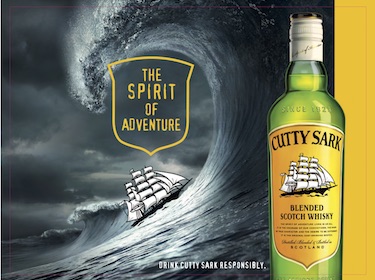 "The Spirit of Adventure" new advertising campaign represents a milestone for Cutty Sark Scotch Whisky, and confirms its strategic ambition to pursue its international conquest and recruit the next generation of Scotch drinkers.
The script depicts the famous eponymous three-masts, sailing on a rough sea to the rhythm of an epic music. This campaign, an optimistic celebration of sailors at heart, encourages those who have the courage to follow their dreams, no matter how challenging they may be.
"This campaign celebrates the spirit of adventure. The idea is to re-iconize Cutty Sark and anchor the brand to its legitimate maritime heritage."claims Nadège Perrot, global Whisky manager at LA MARTINIQUAISE.
"The Spirit of Adventure" will rely on a strong digital presence to maximise its visibility on social media, leading the way to adventure-based local activations and sponsorships.