CUTTY SARK keeps its bold spirit and unveils its new 12 years old expression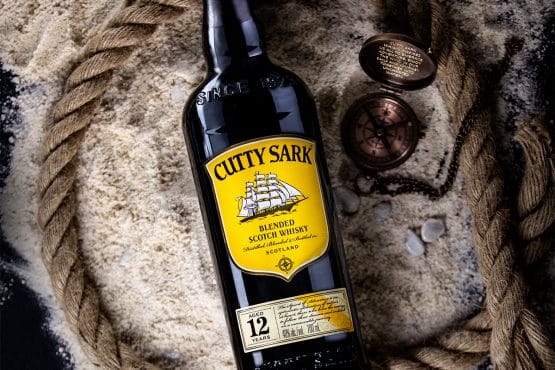 After nearly a century of adventures and discoveries, Cutty Sark has gathered its passion and expertise to create a 12 year old high quality Whisky. Offering a "mellow mouthfeel", the expression is balanced by complex notes of spice and fruit.
This statutory and audacious Whisky straight from Scotland is elaborated with commitment and precision. The expression is matured over 12 years in carefully selected Bourbon and Sherry casks. Then the Whisky goes through a marrying process, allowing it to be filtered at a higher temperature to retain its smooth flavours.
"Aged for 12 years in hand selected oak casks and with notes of dried and tropical fruits, spice, cloves, ginger and a subtle hint of sea salt, Cutty Sark 12 Year Old Blended Scotch Whisky pays tribute to the ship's many anchor points and its long, proud maritime history", said Stephen Woodcock, Master Blender of Cutty Sark.
Communicating on the Spirit of Adventure that lies in us all, Cutty Sark Whisky rides the wave of exploration and discovery with this portfolio extension. Cutty Sark 12 Year Old is packaged in a black bottle with a cork seal that reflects the traditions of the Prohibition era when Cutty Sark became notorious. The iconic yellow label displays the famous Cutty Shark ship along with a compass, marking its maritime branding.
For Whisky expert Ian Buxton "The extra age and body is carried gracefully in a well-balanced blend that shows an extra dimension to Cutty Sark Original. A welcome addition to the range and one that will appeal to drinkers looking for the 'sweet spot' of quality and value. Works well as a stand-alone dram or in mixed serves".
Cutty Sark 12 Year Old was unveiled at the TFWA World Exhibition and will be officially launched for domestic retail markets in March 2022. Clocking in at 40% ABV, it is available in 70 cl and 100 cl formats.