BUSNEL
World's Best Calvados of the year in 2018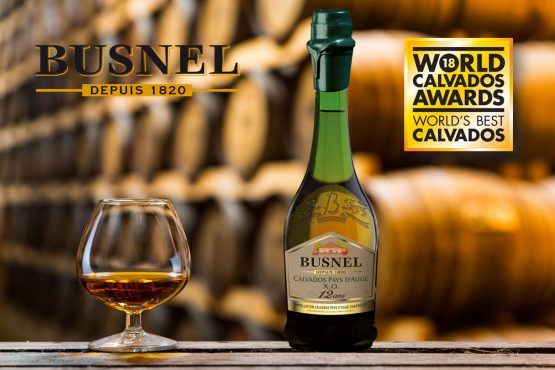 BUSNEL ELECTED WORLD'S BEST CALVADOS OF THE YEAR.
BUSNEL Calvados was just awarded World's Best Calvados of the year at the prestigious international competition WORLD'S BEST DRINKS AWARDS 2018. More than just an amazing award for BUSNEL, it also represents an international recognition for Calvados, a very typical French apple brandy. Full of tradition and craftsmanship, Calvados is elaborated in Normandy, France.
Founded in 1820, BUSNEL has one of the oldest distilleries of Calvados, located in the most prestigious certified appellation of Pays d'Auge. In full respect of ancestral tradition, the distiller and cellar master carefully distil, age and blend this very fine apple brandy known as Calvados.
BUSNEL Calvados cherish the link with the terroir and nurture a close and long-term relationship with their apple producers, some have been working with BUSNEL for over forty years. The elaboration process is fully controlled, from the apple supply, to the cider-making, to the careful crafting into Calvados. The quality is therefore ensured year after year.
At the distillery, a tour is offered to visitors with explanations about Calvados history and elaboration with a tasting of our BUSNEL Calvados range.
Tasting notes of our BUSNEL CALVADOS XO aged 12 years:
"Rich, fruity and spicy. Well matured, complex and full rounded. Nice balance of flavours with quince and gooseberry on the palate followed by a pear finish."
About BUSNEL Calvados
Since 1820, BUSNEL Calvados has been elaborated in the very heart of the most renowned part of Normandy, the Pays d'Auge. The authentic and traditional distillery is still operational, and a close control of the elaboration process allows maintaining a constant high quality. BUSNEL is owned by the LA MARTINIQUAISE group, N°1 Calvados producer worldwide*. (*Source: IDAC 2018)
About LA MARTINIQUAISE
An independent French Group founded in 1934 by Jean Cayard, LA MARTINIQUAISE is a leading spirits Group in France and features in the world's top 10. The Group has a turnover of 1 billion euros and is proud to own four millionaire brands, LABEL 5 & SIR EDWARD'S Scotch Whiskies, POLIAKOV Vodka and NEGRITA Rum.
Contact:
BUSNEL DISTILLERY – Route de Lisieux, 27260 Cormeilles (Normandy, France)
LA MARTINIQUAISE –
William PLOQUIN-MAURELL  – william.ploquin-maurell@la-martiniquaise.fr
+33 (0)1 43 53 86 06
Download the PDF version