SAINT JAMES
Names the 2018 Bartenders Society competition winner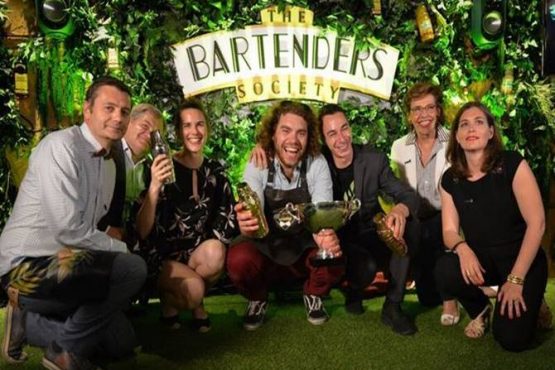 The SAINT JAMES professional cocktail competition recently elected its winner amongst 28 bartenders from all over the world. With a 'Green' theme for this year, the prestigious jury of renowned bartenders and Rum experts voted for the best cocktail creation using SAINT JAMES Agricole Rum and various herbs, flowers or natural juices.
The great final stage took place in Paris at the Kube Hotel on the 28th and 29th of May 2018 and has been a successful moment. Creativity and expertise met conviviality, sharing and transmission; these are the core values of the competition.
During this great final, the best mixologists from 10 different countries gave an amazing show. The skill level of candidates was even higher this year, attracting international talents with innovative recipes and amazing technics. They competed in front of a prestigious professional jury such as Ian Burrell, Matthias Giroud or Rémy Savage. Around the theme of Green Street Art, the candidates had to create a cocktail and a mocktail using in their recipes fresh or dried herbs.
This year, SAINT JAMES cellar master and president of the Appellation d'Origine Contrôlée Martinique, Marc Sassier, was invited as special guest. He presented SAINT JAMES Agricole rum to all the candidates and promoted the category.  Various other masterclasses and tastings were also held during this event.
The Top 5 finalists were from France, Vietnam and Belgium. This competition is also the occasion to create and develop long term bonds between all the participants worldwide. The winner of the 2018 competition is Thomas Fernandez from France. He won a trip to Martinique to discover the wonders of SAINT JAMES distillery and its plantations dating back to 1765.
The LA MARTINIQUAISE-owned Rum brand is making a name for itself in the mixology universe.  More than candidates, it's true ambassadors that are named at this event, promoting  SAINT JAMES and the whole Agricole Rum.
About SAINT JAMES Agricole Rum
SAINT JAMES Rums are born out of a 250-year-long history of passion and craftsmanship. The highly awarded SAINT JAMES Agricole Rums from Martinique, made from fresh sugar cane juice, are appreciated for their character and uniqueness. Distributed in over 50 countries, the famous square bottle brand is the N°1 worldwide Agricole Caribbean Rum. (Source: THE IWSR 2018)
About LA MARTINIQUAISE Group
An independent French Group founded in 1934 by Jean Cayard, LA MARTINIQUAISE is a leading spirits Group in France and features in the world Top 10. The Group has a turnover of 1 Billion euros and is proud to own four millionaire brands, LABEL 5 & SIR EDWARD'S Scotch Whiskies, POLIAKOV Vodka and NEGRITA Rum.
Contact:
SAINT JAMES DISTILLERY – Le Bourg, 97230 Sainte-Marie, Martinique
LA MARTINIQUAISE –
William PLOQUIN-MAURELL – william.ploquin-maurell@la-martiniquaise.fr +33 (0)1 43 53 86 06
Please enjoy SAINT JAMES Agricole Rum responsibly
Download the PDF version