ST RAPHAËL
Le Quina New Premium Range launch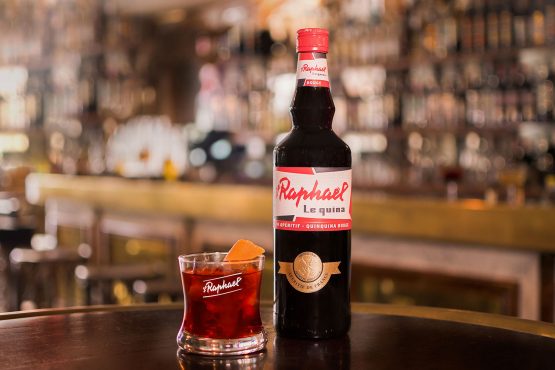 ST RAPHAËL can boast an incredible historical and artistic heritage. The iconic bottle with the bulb neck has been a familiar sight on tables and bar counters in France for almost 190 years. ST RAPHAËL Quinquina withholds a prodigious patrimony, and the brand has stood the test of time with visibility and notoriety yet today.
As a tribute to Charles Loupot, major illustrator and poster designer who held a key role in the elaboration of the graphic iconography of the brand, ST RAPHAËL presents a new product range 'Le quina'. The packaging is inspired from the 50s' bottle, with the graphic design and golden archangel Raphaël. Elaborated from carefully selected red or white wines, mistelle, quinquina, plants and spices, Le quina Red and Amber are a reference to the classic aromatic recipe. Best enjoyed chilled, their organoleptic flavor strength makes it also the perfect range for mixology.
Quina Red  75 cl / 18%
Quina Amber  75 cl / 16% v
FRENCH NEGRONI
5 cl ST RAPHAËL LE QUINA RED
1.5 cl FRENCH GENTIANE (AMARO)
1.5 cl GIN
ICE CUBES
TOP WITH A TWIST OF ORANGE
Contact : William PLOQUIN MAURELL
William.ploquin-maurell@la-martiniquaise.fr
Download the PDF version