GIBSON'S
7 things you should know about Gin GIBSON'S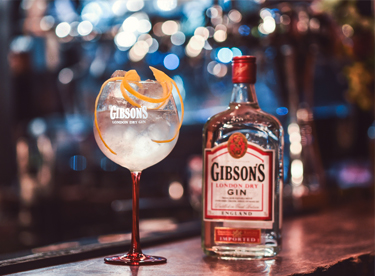 7 THINGS YOU SHOULD KNOW ABOUT GIN GIBSON'S
– ONE FOR EACH DAY OF THE WEEK –
1 – IT IS AN AUTHENTIC LONDON DRY GIN
Authentic London Dry Gin is an appellation which guarantees the consumer the real quality of the Gin. It symbolizes the epitome of the Gin, the best of the best.   London Dry Gins are always distilled and no artificial elements can be added to it.
2 – FRENCH CONSUMERS LOVE IT
Indeed, they love it so much that Gibson's is the first Gin consumed in this country, with 36% market shares in 2017!*
3 – ONE SIP AND YOU'LL FEEL LIKE A REAL BRITISH PUNK
Gibson's in your mouth … now, close your eyes. Once you open them, do you see streets full of the famous red phone booths and punk everywhere? You want to go to Camden Market buy a vinyl record?  Makes sense, Gibson's, the ultimate British gin, does that to you.
4 – THE BEST GIN & TONIC YOU'LL EVER DRINK
4cl of Gibson's gin + 8 cl of tonic + a dash of Angostura + a twist of lime … the recipe for the perfect moment doesn't require that much.
5 – BUT IF YOU PREFER TO USE IT FOR A MOJITO, YES YOU CAN!
You didn't know you could replace rum by gin in a mojito? Who told you so? For that, you'll just need 4cl of Gibson's gin, 2 spoons of sugar, 5 limes wedges and 8 fresh mint leaves. Drink up!
6 – ITS AROMAS OF JUNIPER BERRIES AND ITS TRIPLE DISTILLATIONS IN STILLS IS WHAT MAKES GIBSON'S SO SPECIAL
Its triple distillation in stills and its subtle aromas of juniper berries, coriander, angelica and oranges peels give it a fine and delicate bouquet.
7 – ITS QUALITY IS RECOGNIZED IN THE TOP WORLDWIDE COMPETITIONS
In 2017, Gibson's won the Spirits Business Gin Masters Gold Medals and the International Spirits Challenge (ISC) bronze medals. Those competitions award the best spirits in the world. Objectivity and expertise are what drive the results.
DRINK GIBSON'S RESPONSIBLY
*Source: THE IWSR 2018 – 2017 France market shares: 36%
About GIBSON'S
Proud of its English origins, GIBSON'S Gin is an authentic London Dry Gin, with delicate aromas of citrus fruits, juniper berries, coriander and cinnamon bark tinge, which quality is recognized and largely awarded at international competitions (Gold medal at the 2017 GIN MASTERS competition). Distributed worldwide in more than 40 countries, GIBSON'S Gin  is the best-selling gin in France.
About LA MARTINIQUAISE:
An independent French group founded in 1934, LA MARTINIQUAISE is the N°1 spirits group in France and features in the world's top 10 leading spirits companies. The group has a turnover of 1 billion euros and is proud to own four millionaire brands, LABEL 5 & SIR EDWARD'S Scotch Whiskies, POLIAKOV Vodka and NEGRITA Rum.
Contact LA MARTINIQUAISE Group,
Constance Descamps – constance.descamps@la-martiniquaise.fr
Download the PDF version