PORTO CRUZ
130 years anniversary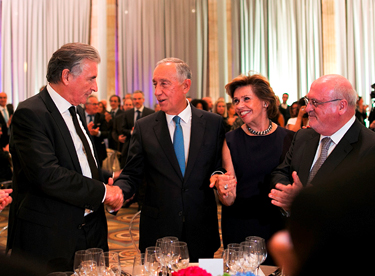 PORTO CRUZ BLOWS THE CANDLES OUT OF 130 YEARS OF EXPERTISE DURING AN UNFORGETTABLE EVENT, ATTENTED BY THE PRESIDENT OF PORTUGAL
PORTO CRUZ, n°1 Port brand worldwide, celebrated 130 years of history, expertise and passion, during a very special evening on the 22nd of September, with 300 people attending.
PORTO CRUZ commemorated its anniversary during an exceptional gala dinner, taking place in the historical Palacia Da Bolsa, one of the most-visited sites in Porto, renowned for its exquisite neoclassical facade and ornate gilded Arabian Hall. The President of Portugal, Marcelo REBELO DE SOUSA, was present for the ceremony.
The event was also the occasion of celebrating and tasting the 130YO Anniversary Carafe, a unique and exceptional millesime, decanted over the last 130 years and limited down to 250 numbered carafes, which pays tribute to GRAN CRUZ expertise.
A whole host of Portuguese artists animated the evening:
Rodrigo OLIVEIRA presented a series of objects midway between paintings and sculptures, derived from abstract expressions of the Douro winemaking region with its traditional characteristics and at the same time the contemporary nature of the PORTO CRUZ brand.
Tamara ALVES, street-artist, illustrated in a live performance 3 scenarios of the Woman in black, PORTO CRUZ historical advertising saga. "The colour black is associated with secrets, magic, strength, elegance. In this reinterpretation of the woman dressed only in black, the mystery remains, her face is never revealed and the blackness is movement, soul and colour." says Tamara ALVES
Katia GUERREIRO, one of today's foremost Fado singers, offered the guests a vibrant and moving performance
The diner has been thought up by Miguel Muller de CASTRO E SILVA. Internationally renowned, he opened the DeCastro Gaia, in the PORTO CRUZ Space on Gaia Quay in 2012 and he has three recipes published in Larousse Gastronomique, one of the most influential books of gastronomy in the world.
The night went on with Yen SUNG, one of the first and best female DJs in Portugal.
ABOUT PORTO CRUZ
In respect of a unique know-how, PORTO CRUZ is an iconic brand proud of its origins and expertise. Combining tradition and innovation, the brand shares its vision of Port by promoting a unique and creative experience of tasting. With 8 million litres sold in more than 50 countries, PORTO CRUZ is the n°1 Port brand worldwide.
ABOUT GRAN CRUZ
It was in Vila nova de Gaia on the banks of the Douro River that GRAN CRUZ House was established, taking over from Assumpçao E Fos, founded in 1887. GRAN CRUZ belongs to the French group La Martiniquaise, leading spirits group in France and features in the world Top 10.
Contact:
GRAN CRUZ, Rua José Mariani, 390, 4400-195 Vila Nova de Gaia, Portugal
ESPAÇO PORTO CRUZ, Largo Miguel Bombarda, 23, 4400-222 Vila Nova de Gaia, Portugal
To discover more about CRUZ, please visit http://www.porto-cruz.com and http://www.myportocruz.com
Group LA MARTINIQUAISE, www.la-martiniquaise.com
Constance DESCAMPS – Email: constance.descamps@la-martiniquaise.fr
Please drink CRUZ responsibly.
Download the PDF version